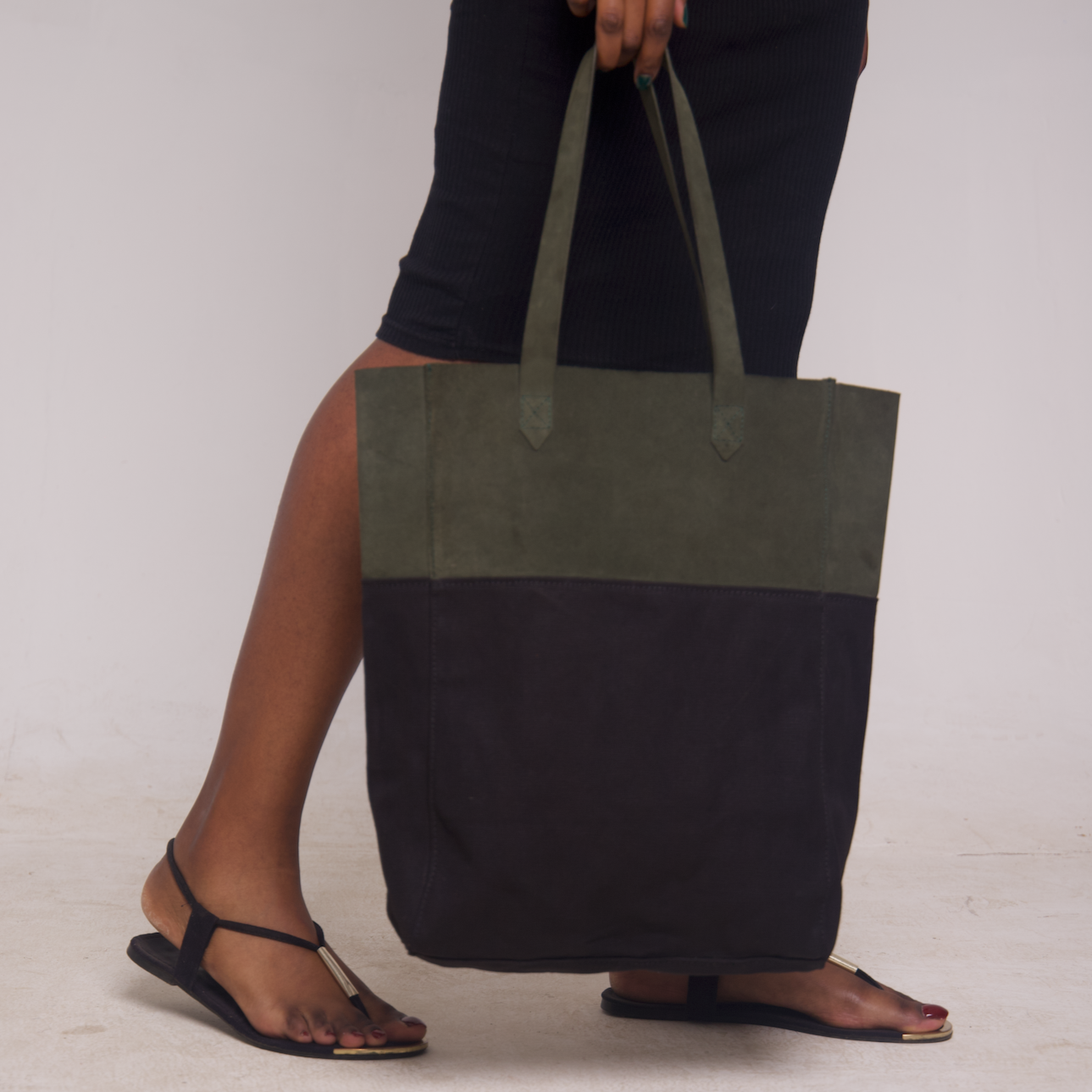 Introducing our exquisite Handmade Half Canvas, Half Leather Bag - a stunning fusion of elegance and durability. Crafted with utmost precision by skilled artisans, this unique bag effortlessly combines the timeless charm of canvas with the unmatched luxury of genuine leather.
Designed with practicality in mind, this versatile bag offers ample storage space to carry all your essentials. Its spacious main compartment easily accommodates your laptop, books, documents, and more, while the internal pockets keep your smaller items organized and easily accessible.
Whether you're heading to the office, exploring the city, or embarking on a weekend getaway, our Handmade Half Canvas, Half Leather Bag effortlessly complements any outfit and occasion. It's a symbol of craftsmanship and taste, reflecting your appreciation for the finer things in life.

Invest in a bag that not only embodies elegance and functionality but also supports the creativity and dedication of artisans who put their heart and soul into crafting each piece. Elevate your style with our Handmade Half Canvas, Half Leather Bag - a true masterpiece that stands the test of time.
ETHICALLY MADE IN AFRICA
We are committed to providing dignified work for communities in Africa. We want to make a better future by doing right in the present. We work with local craftspeople, driven to share African products with the rest of the world. We're aiming to build 500 jobs for people who have been left behind by the global economy.
FOR A GOOD CAUSE
Your dollars are not going to some mega corporation or factory, they're going to a good cause that will benefit generations to come. Our business is not only driven by profit, but with a mission to lift people out of generational poverty. We support local industry - even the cotton we use is grown and processed in East Africa. Additionally, we use a portion of our profits to provide education to girls in rural Kenya.

HELP OUR PLANET
Our products are made with sustainably grown cotton, recycled materials, and free rangeleathers. Sustainable industry is key to a thriving planet for everyone. Our products arenot made in a corporate factory, they're made with care to benefit generations to come.We do not package our products in plastic.

BLACK OWNED. WOMAN OWNED
Wealth inequality is a story of gender and racial inequality. We believe that providingopportunities to traditionally underrepresented people is the best way to make adifference. Vote for equality with how you spend your money. Buy black owned. Buywoman owned.
Embroider, screen print or heat press with your logo for orders of 25 units or more.
Embroidery fee: $4 per unit per location, $30 setup fee
Screen printing fee: $2 per color per location, $50 setup fee per color
Heat press fee: $2 per color per location, $30 setup fee
Lead Time: 2-3 weeks on in stock products and 4-6 weeks on out of stock products
Minimum custom quantity: 25