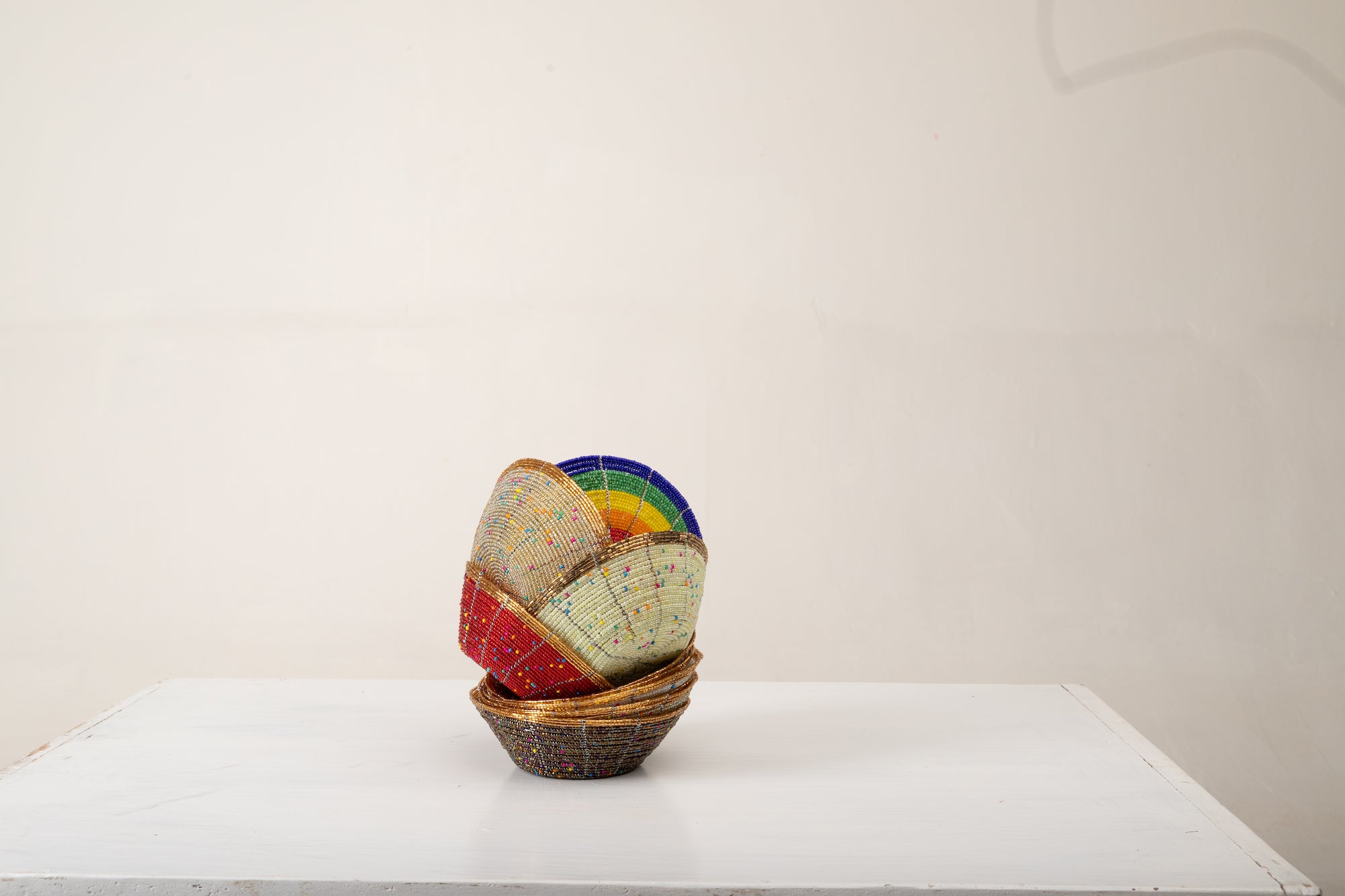 Experience the charm of our handmade beaded bowls from Kenya! Each bowl is skillfully crafted by talented artisans using locally sourced materials and traditional beading techniques. The colorful and intricate designs of these bowls make them a unique and eye-catching addition to any home decor. By purchasing one of our beaded bowls, you are not only owning a beautiful piece of art but also supporting the livelihoods of our skilled Kenyan artisans. Shop now and add a touch of African elegance to your home decor!
The bowls might look different than they do in the pictures in terms of size and color. That's the beauty of handmade.
Details
✔ Glass beads and recycled copper and steel wire. Great holiday or wedding gift.
✔ Baskets available in assorted colors and patterns. 
✔ Approximate sizes: 4 3/4" diam. x 1 1/2" h.
ETHICALLY MADE IN AFRICA
We are committed to providing dignified work for communities in Africa. We want to make a better future by doing right in the present. We work with local craftspeople, driven to share African products with the rest of the world. We're aiming to build 500 jobs for people who have been left behind by the global economy.
FOR A GOOD CAUSE
Your dollars are not going to some mega corporation or factory, they're going to a good cause that will benefit generations to come. Our business is not only driven by profit, but with a mission to lift people out of generational poverty. We support local industry - even the cotton we use is grown and processed in East Africa. Additionally, we use a portion of our profits to provide education to girls in rural Kenya.

HELP OUR PLANET
Our products are made with sustainably grown cotton, recycled materials, and free rangeleathers. Sustainable industry is key to a thriving planet for everyone. Our products arenot made in a corporate factory, they're made with care to benefit generations to come.We do not package our products in plastic.

BLACK OWNED. WOMAN OWNED
Wealth inequality is a story of gender and racial inequality. We believe that providingopportunities to traditionally underrepresented people is the best way to make adifference. Vote for equality with how you spend your money. Buy black owned. Buywoman owned.
Embroider, screen print or heat press with your logo for orders of 25 units or more.
Embroidery fee: $4 per unit per location, $30 setup fee
Screen printing fee: $2 per color per location, $50 setup fee per color
Heat press fee: $2 per color per location, $30 setup fee
Lead Time: 2-3 weeks on in stock products and 4-6 weeks on out of stock products
Minimum custom quantity: 25