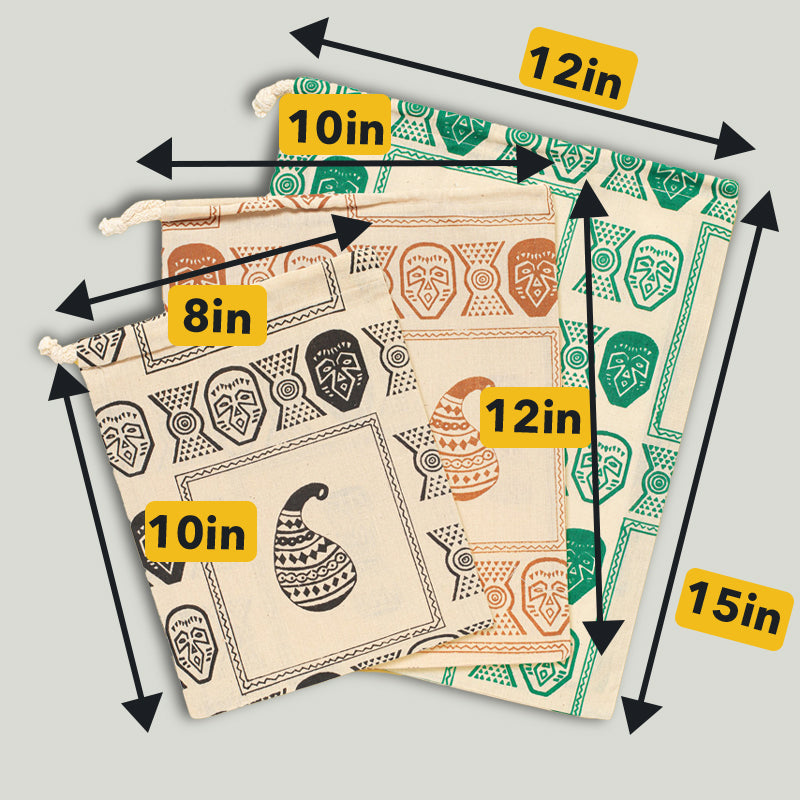 The Ecodunia produce bag is great for everything - just the right size to hold what you need for a trip to the grocery store, for a picnic, or organizing your pantry. Even works great to separate clothing in your drawer or while traveling!
Made with organic cotton the highlands of Kenya, these bags are sure to delight.
What you'll love about The Reusable Produce Bags
✔ Eco-friendly, reusable produce bags.
✔ Great for everything.
✔ Beautiful, stylish and washable.
✔ Ethically handmade in Kenya. 

Details
✔ 100% organic cotton.
✔ Small Bag: 8x10 in. (20x25 cm)
✔ Medium Bag: 10x12 in. (25x30 cm)
✔ Large Bag: 12x15 in. (30x38 cm)
✔ Available in a 3-Pack, 6-Pack, or 8-Pack (w/ 2 sm, 3 med & 3 lg)
ETHICALLY MADE IN AFRICA
We are committed to providing dignified work for communities in Africa. We work with local craftspeople, driven to share African products with the rest of the world. We're aiming to build 500 jobs for people who have been left behind by the global economy.

FOR A GOOD CAUSE
Your dollars are not going to some mega corporation or factory, they're going to a good cause that will benefit generations to come. Our business is not only driven by profit, but with a mission to lift people out of generational poverty. We support local industry - even the cotton we use is grown and processed in East Africa. Additionally, we use a portion of our profits to provide education to girls in rural Kenya.

HELP OUR PLANET
Our products are made with sustainably grown cotton, recycled materials, and free range leathers. Sustainable industry is key to a thriving planet for everyone. Our products are not made in a corporate factory, they're made with care to benefit generations to come. We do not package our products in plastic.

BLACK OWNED. WOMAN OWNED
Wealth inequality is a story of gender and racial inequality. We believe that providing opportunities to traditionally underrepresented people is the best way to make a difference. Vote for equality with how you spend your money. Buy black owned. Buy woman owned.
Embroider, screen print or heat press with your logo for orders of 25 units or more.
Embroidery fee: $4 per unit per location, $30 setup fee
Screen printing fee: $2 per color per location, $50 setup fee per color
Heat press fee: $2 per color per location, $30 setup fee
Lead Time: 2-3 weeks on in stock products and 4-6 weeks on out of stock products
Minimum custom quantity: 25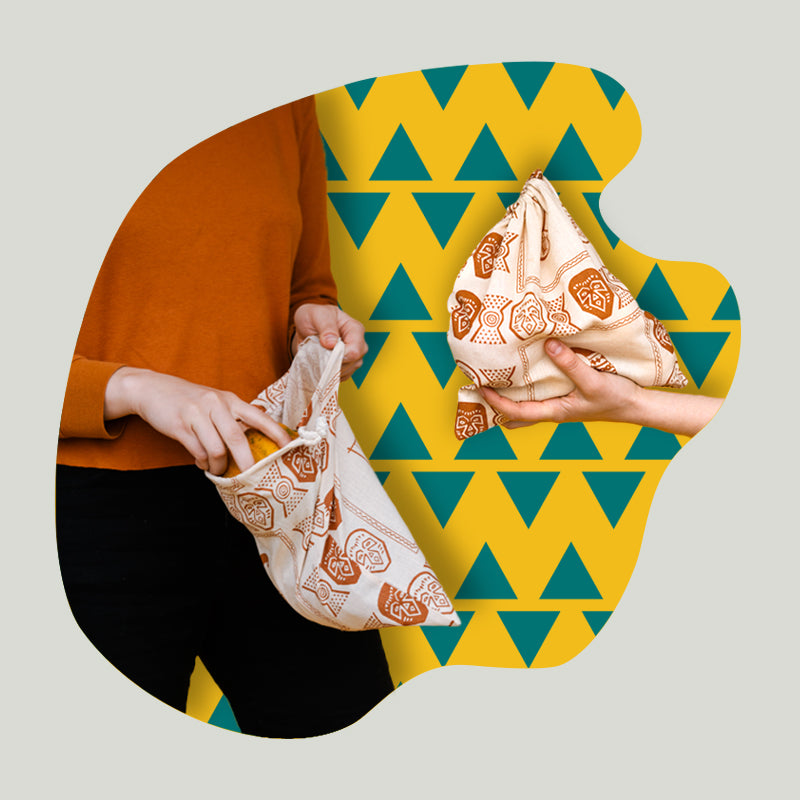 ECO-FRIENDLY REUSABLE PRODUCE BAGS
For a trip to the grocery store or farmers market, these bags are designed for all your produce, grains, and bulk foods shopping. Use these natural cotton bags to store fruits and vegetables, as snack bags, or a picnic.
Sustainable, zero-waste bags, made from organic East African cotton.  
GREAT FOR EVERYTHING
More than just a produce bag, our organic cotton bags are great for everything! For storage or even to separate clothing in your drawer or suitcase!
Comes in three different sizes and colors, with drawstring closures.
ETHICALLY HANDMADE IN KENYA
Our cotton is grown, spun, woven, sewn and designed by small producers in Western Kenya, made by the loving hands of the women and men driven to share African products with the rest of the world.
Every bag provides dignified work for communities in Kenya. We have followed this cotton from the small farm in Nakuru to you.
STYLISH AND MACHINE WASHABLE
With traditional African prints, these bags are machine washable. Just wash and reuse.
Let's move the planet towards a zero-waste world!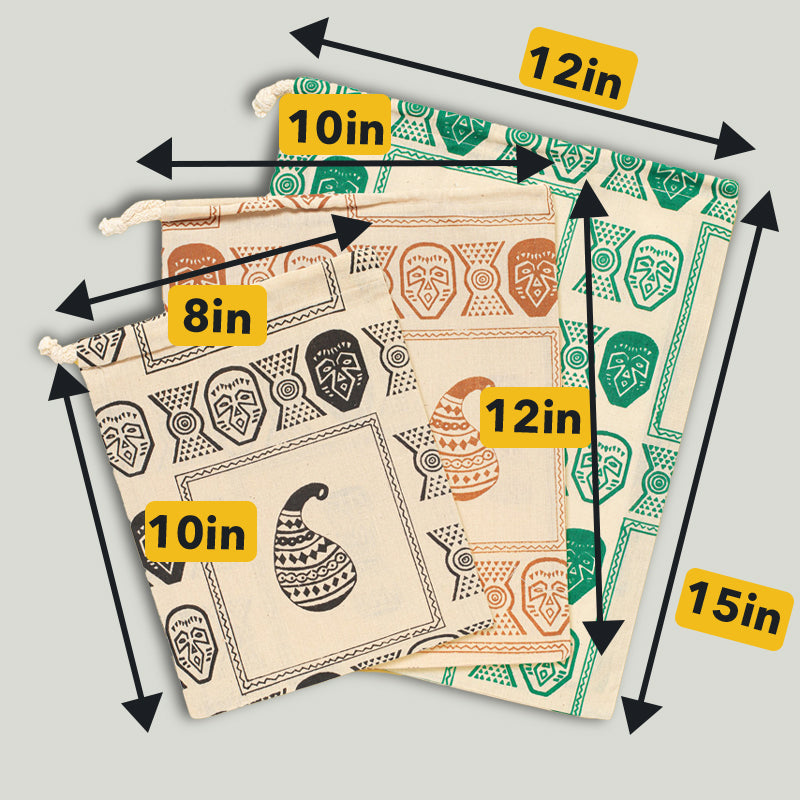 WHAT YOU'LL GET
Our produce bags come in three different sizes and colors:

Green (12x15in)
Brown (10x12in)
Black (8x10in)

Available in:
- 3 Packs
- 6 Packs
- 8 Packs